cultural programming
Explore team building through entertainment. The violin and piano are inherently different. Not only in size, but in sound production, mechanics, and their musical roles. Bow & Hammer in Concert will demonstrate how the two instruments can not only work together, but shine together as you experience Bow & Hammer's cohesive and unified sound. Our narratives and stories will bring it all together to inspire your team with ways to integrate individual passions for more effective teamwork.
We take it one step further with collaboration. With Élevé and the Coursed Concert, we show how collaborating with other disciplines make for one incredible experience. These presentations reveal how different mediums can work together and create something unexpected.
With any of our three (3) presentations, you and your team will experience a live performance with a customized narrative throughout the show. No lectures or long talks here. Just inspiring music with plenty of creative surprises.
bow & hammer in concert
Immerse yourself in sound. Bow & Hammer in Concert features the duo in a live performance of music for violin and piano. They'll take you through multiple time periods and stories with their music and narratives. Though they have a sweet tooth for compositions from the early 20th century (1917 to be exact), they use both modern and traditional repertoire to craft well-balanced programs that connoisseurs and newcomers alike can enjoy.
Élevé
Unconventional and uniquely social, Élevé is Bow & Hammer's series to elevate creative artistic collaborations. To date, Élevé productions have included: graphic novel illustrations colored by Prokofiev, Szymanowski's setting of Greek myths revived by urban prose, and a Pakistani art installation integrated with the folk traditions of Bartók, all challenging the conventional limitations of how our respective art forms compliment each other. Described as a show from "another world—one of story and magic", Élevé shifts the paradigm of the concert experience.
Collaboration speaks to how different mediums work together to produce a greater and more effective result. Invigorate your team with inspiration. Creativity is the ultimate tool in diversifying your company's culture. Explore two of our programs that feature Bow & Hammer with illustrator and muralist, Sean Archer or spoken work artist, Harold Green.
Explore two (2) Élevé programs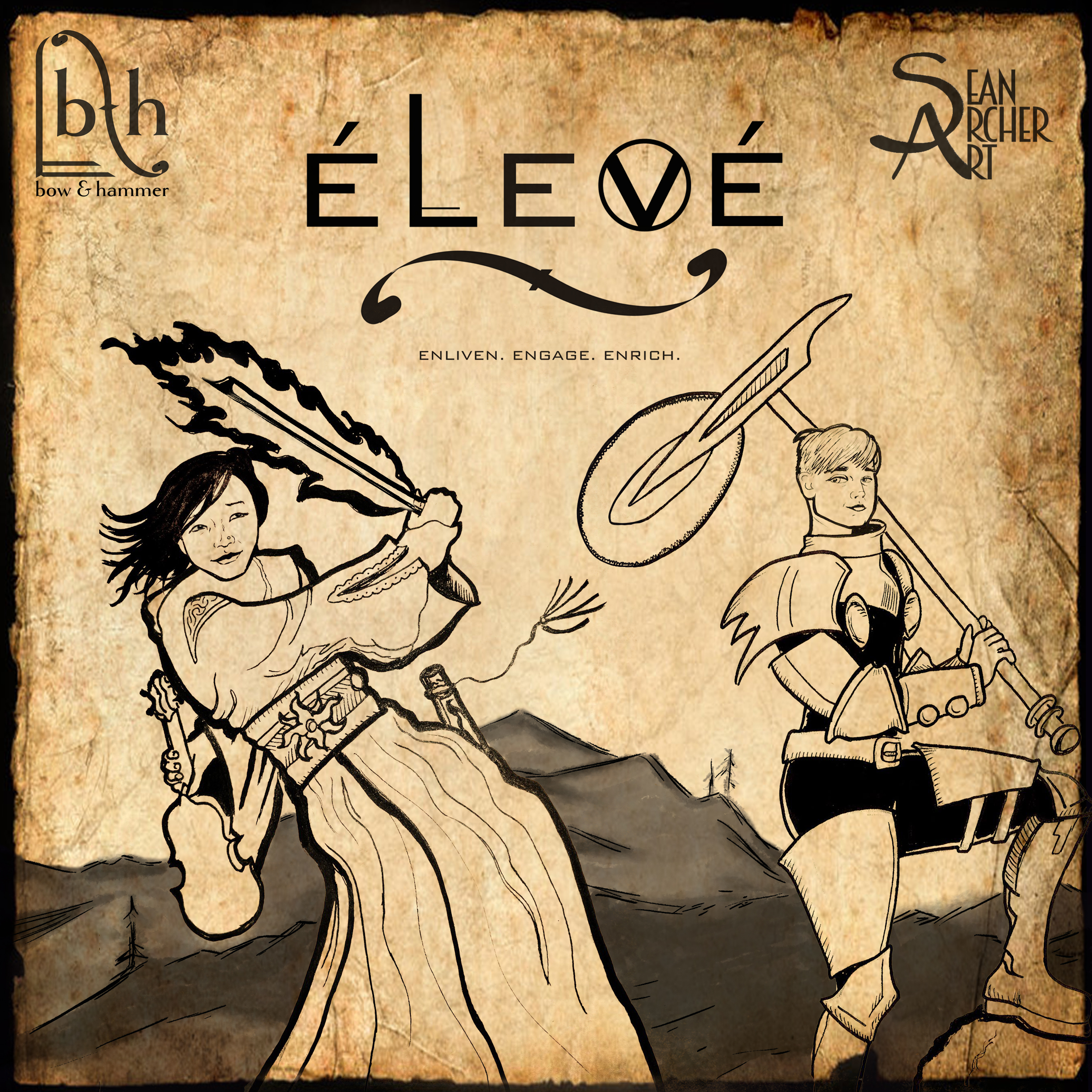 the Coursed Concert
The Coursed Concert is a multi-coursed event intertwining culinary and musical performance. The evening flows like a multi-course dinner, pairing a musical selection with each course. Featuring food and music equally, both mediums are allotted sufficient time to be savored. Together in coordination with their presented courses, Bow & Hammer and the guest chef provide a verbal narrative that shares inspiration and personal experience through taste and sound.